Catherine Wilfert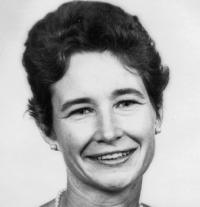 1936-2020
Catherine Wilfert was born July 26, 1936, in Inglewood, California. She earned her undergraduate degree with distinction from Stanford University in 1958. In 1962, she graduated summa cum laude from Harvard Medical School, one of just five female students to finish. Following medical school, she interned at Boston Children's Hospital nunder the direction of Nobel Laureate Dr. John Enders, the father of modern vaccines. She did her Residency in Pediatrics at Boston City Hospital.
She joined the faculty of Duke University School of Medicine in 1969, where she was Division Chief of Pediatric Infectious Diseases in the Department of Pediatrics and Professor in the Department of Microbiology and Immunology. Early into her career, she contributed significant work in virology and epidemiology of Rocky Mountain Spotted Fever.
With the onset of AIDS, Dr. Wilfert's work was primarily focused on the eradication of pediatric AIDS. Seeing an increasing number of children who shared the same diagnosis, she soon established a Pediatric Infectious Disease Clinic at Duke. After the FDA approved AZT to treat the AIDS virus, she was Principal Investigator of the pediatric AIDS Clinical Trials Unit at Duke, which launched in 1987. Her clinical trial group demonstrated the efficacy of using doses of AZT to reduce the incidence of mother-to-child transmission of HIV by over 60 percent. Due to the application of this knowledge, pediatric AIDS in the United States was reduced by 75 percent. After years of hard work and research, the percentage of perinatal HIV transmission in North Carolina decreased from 25 percent in 1993 to 2 percent in 1997.
In 1996, she left Duke to become the Scientific Director of the Elizabeth Glaser Pediatric AIDS Foundation where her primary role was to review grant applications and award funds to Elizabeth Glaser Scientist recipients and other researchers. She also continued her work to prevent mother-to-baby HIV transmissions by shepherding grants to programs around the world.
Dr. Wilfert has been on the editorial board of numerous publications and has served as a consultant for private companies as well as US and state governments. In 1999, she became only the second woman President in the history of the Infectious Diseases Society of America.
She was the recipient of countless wards, recognitions, and honors including:
Davison Professor Emeritus of Pediatrics
2019 North Carolina Award for Science (State's Highest Civilian Honor)
Distinguished Award of Honor for Love of Humanity Especially in the Third World (Cameroon Baptist Convention on Occasion of Its 50th Anniversary Celebration, 2004)
Lifetime Achievement Award in HIV (Third International Meeting on HIV in India, 2001)
Award of Recognition for Outstanding Contributions to Advancing the Prevention of Perinatal Transmission (Global Strategies Conference for the Prevention of HIV Transmission from Mothers to Infants, 1997)
A. Henderson Award for Outstanding Contributions to Public Health (IDSA and IDSA Foundation)
Institute of Medicine Inductee
National Academy of Medicine Inductee
Chair, Perinatal Working Group for the Prevention Trials Network [HPTN] (Sponsored by NIH)
Dr. Catherine M. Wilfert died from Idiopathic Pulmonary Disease in 2020 at the age of 84.
Interview
This oral history interview was conducted with Dr. Catherine M. Wilfert on August 26, 2006 by Jessica Roseberry.